Dear Customers,
As the Chinese New Year, also called Lunar New Year or Spring Festival (1st Feb 2022) is around the corner, we are here to announce our holiday schedule: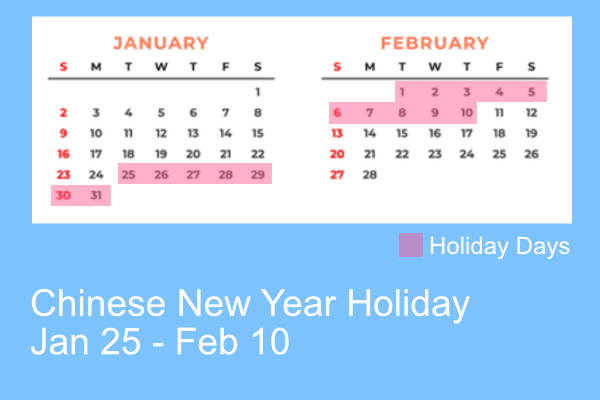 Our company's holiday will start on 25th January, last to 10th February. All our staff will be on holiday during this period. For many of our employees, they work far away from their home town and families. This is the most important holiday in China and the opportunity for Chinese people to reunite and get together with their families and friends.
Orders can be placed on our website during the holiday and will be processed in chronological order after we return to our work. Chinese customs, our manufacturers, and our shipping companies will be all on the holiday during this period. Our work relies on their assistance.
A customer service specialist will be on duty to check and respond to emails from time to time during the holiday. If you have any questions, please contact us by email: service@silverjewelrysea.com
At the time of every year, we are about to finish our work and prepare for the holiday. We are grateful for your trust and business with us. We would like to thank you for your support of our business. Wish you are healthy and have a prosperous business!
HAPPY NEW YEAR TO ALL OUR DEAR CUSTOMERS!
SilverJewelrySea.com
January 17th, 2022